It is a common dilemma for couples post engagement whether to hold their wedding in the UK or abroad. For some, the decision to get married abroad may come easily as this may be something that you've always wanted or perhaps there is a special family connection to an overseas destination which makes the decision a bit easier. However, as with any event whether in the UK or abroad, there are some pros and cons to consider before making your final decision. I have put together some pros and cons of having your wedding in the UK or overseas below to hopefully help you narrow down which option you'd like for your wedding day.
Weather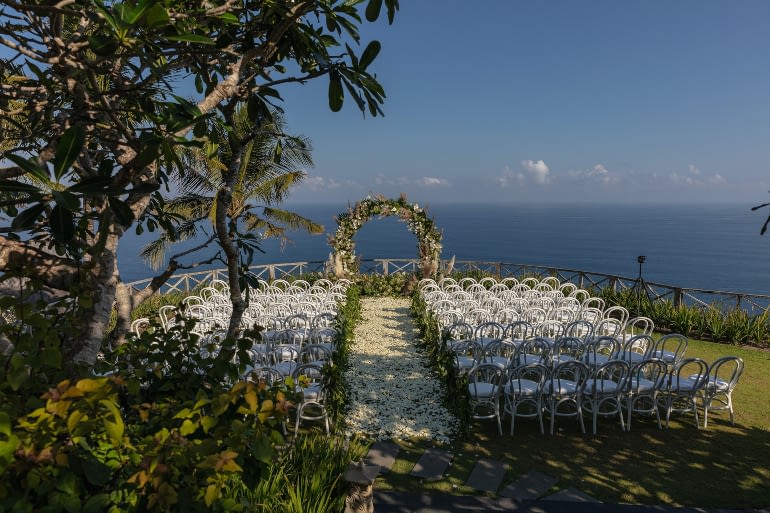 Ah the weather, the never-ending topic of discussion in British households! Obviously, with the UK the weather is completely unpredictable whenever you choose to get married throughout the year. I got married in August and although the afternoon turned out to be a lovely day, the morning wasn't sunny and just before I left to go to the church the heavens opened, so it is completely unpredictable and something that you need to have a contingency plan for. If you are looking for more guaranteed sunshine, long days and heat then getting married abroad would be a better option as the weather is more guaranteed at certain times of the year. However, it is important to remember that you don't necessarily want it too hot as it won't be comfortable for you in your wedding dress and your guests. For some couples other restrictions such as school holidays make it impossible to marry outside of peak European Summertime where the weather can hit 40c + but similarly to the UK, this is something that needs to be factored into your plans; so providing guests with fans, parasols, bottles of water etc will help to make them feel more comfortable in the heat.
Guest List
Be prepared if you choose a destination wedding for family and friends to be unable to make it and be ok with this. If inviting your whole family including distant relatives is key for you then a UK based wedding would be more sensible but if you're looking to have a smaller wedding and spend more time with your loved ones, then a destination wedding would be a better option.
For destination weddings, money and time off work is usually a huge contributing factor and for some guests, it might not be feasible budget-wise to attend as not only do they have to find flights, there is also accommodation costs, and most guests will turn a destination wedding into a holiday as well. Flight and accommodation prices are obviously a lot higher over the summer months across Europe, so giving your guests plenty of notice of your date and location, could make the difference between people being able to attend or not.
Guests being unable to attend is an important point that you will need to prepare yourself for and be prepared to be flexible with your guests. With the outbreak of COVID-19, a lot of couples have chosen to live stream their wedding either via Facebook or other platforms, so if you do choose a wedding abroad and guests can't attend then this is a nice option to offer them so that they can still view your ceremony even if it from a distance.
Suppliers
For a wedding in the UK, couples have a wide range of suppliers to choose from and have the opportunity to meet their suppliers in person to discuss their wedding plans. There are so many platforms providing recommendations for UK based suppliers, you can take your time to look through each suppliers offerings and make your decisions from there. On the flip side, with an overseas wedding, you are going to take more risks with suppliers for a variety of reasons. Firstly, you are very unlikely to be able to meet them in person prior to your wedding day, this particularly goes for hair and make-up artists for example, where you will be putting a lot of trust in someone you haven't been able to have a trial with.
You can ask for examples of their work prior to booking but unless you are able to go to your destination to have a trial this is one risk you have to be comfortable with. The same principles apply to other suppliers such as florists, caterers and venue stylists but if you are booking a standalone venue then these venues will have recommended suppliers who they regularly work with, so you can utilise their list which can provide a little more confidence.
However, my recommendation would always be to visit the venue(s) you're looking at least once prior to booking and at the same time book in to meet the other suppliers. This is an option I offer for my destination wedding clients as it is really important that you are both comfortable with your final choice of venue and suppliers.
If you can't make it out to your chosen destination then having a video conference call with any recommended suppliers is an alternative, as long as the language isn't too much of an issue so that you can discuss things in more detail. Alternatively hiring a wedding planner, like myself, who has the relevant connections, is a way of reducing the risks associated with booking unknown suppliers.
Control over planning
Planning a wedding in the UK will definitely provide you with more control over the planning process as there are no language barriers, time zone differences and you can easily travel to places to meet with suppliers or view venues. With a destination wedding, you have to prepare yourself for less control as you will be placing your trust in your chosen suppliers and it isn't as easy to meet in person. This is where a lot of couples when they choose to get married abroad, invest in a wedding planner, as this provides an added level of control and trust to planning a wedding as you know that you have a dedicated point of contact who can help you plan your big day.
Rules and Regulations
Whether you're getting married in the UK or overseas, there is standard paperwork that has to be filed and processed prior to your marriage. In the UK it is relatively easy to file the relevant paperwork and whether you're having a civil ceremony or a religious service, the individual conducting your ceremony will be able to provide the relevant list of documents required. With a destination wedding, this becomes more complicated depending on your wedding location. Some documentation will need to be translated which is an added cost that will need to be factored in as well as the time it takes to process the paperwork. It is also important to look at whether your wedding is legally recognised in the UK or if this is something you will need to do once you return to the UK.
Other than paperwork a key item to factor into your wedding planning is the bank charges for paying in a foreign country. Depending on who you're working with and the destination these charges can be huge so adding additional funds to your overall budget is crucial. There is a company called Wedding Forex who specialise in these types of payments but there are other platforms that you can use but they will have varying charges applied for foreign currency payments.
Costs
A lot of people think that it is cheaper to get married abroad than in the UK but in all honesty, this depends on the type of wedding you are looking for. Many destination weddings are offered as wedding packages through larger travel or wedding operators which do make it easier if you're looking to do things on a budget. However, if you're looking for a more tailored approach then the costs could be the same as having your wedding in the UK.
For most destination weddings the wedding day is only one part of the whole wedding celebrations that may span days rather than one day. This is because people want to make the most of travelling to a destination but it also allows your guests to get to know each other and make some great memories. Therefore a lot of couples who choose a destination wedding offer either a pre-wedding day evening such as having a nice meal at a restaurant or a relaxed meal on a nearby beach or alternatively offering a post-wedding day brunch the morning after your wedding. These are all additional costs that you as a couple will need to bear and not your guests.
This is in comparison to a UK based wedding where there tends to be only one day rather than several days, so this means you can keep your costs within your predetermined budget as guests would not be expecting a pre or post-wedding day meal as wedding guests would travel to your wedding day and then leave either that evening or stay locally.
As with any decision, there is an endless list of pros and cons, but ultimately whether you choose to get married in the UK or abroad, the location should reflect you as a couple, your personalities and the wedding vibe you want.

Top Tips for Planning Your Wedding
Ready to kick start your wedding planning but unsure where to start? Download my top tips on how to begin planning for the wedding of your dreams.