There are so many wedding hairstyles to choose from that it can become overwhelming when you're faced with the prospect of choosing what hairstyle you will have on your wedding day, there's so much inspiration out there from Instagram to Pinterest. For this post I'll be discussing the pros and cons of having an updo for your wedding day, to help make your hair decision a bit easier!
When I got married I always saw myself with my hair up rather than down. I wear my hair both up and down in equal proportions in my daily life but for my wedding day, I didn't want to have to think about moving my hair out of my face or worrying that the style was going flat and I'm so glad I went for an updo in the end as the day turned out to be a bit breezy which nearly involved me nearly loosing my veil when I exited the church!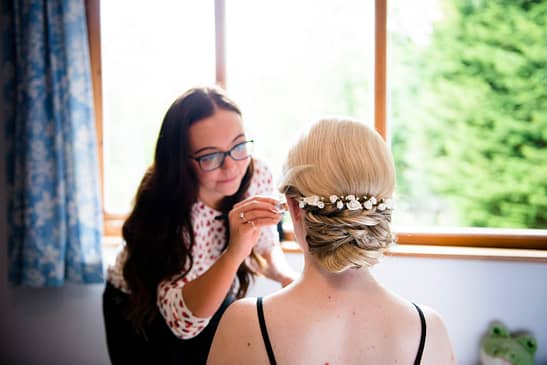 Although I had this vision for having my hair up, I had no real idea of how I wanted it to look as I had quite long hair at the time and wanted to make sure that it would all go up and be secure, but also I was still searching for my wedding dress. Without knowing what my final dress would look like, delayed me deciding on the final style and during my hair trial I took along some photos for inspiration, but I also worked with the stylist during my trial to tweak those looks until I felt comfortable. It took me a while to find my dress, I genuinely thought I wouldn't find one that I loved, as the original dress I fell in love with online, when I tried it on in the shop it looked awful on me! Now, let's get back to talking all things hair……
As you can see from my previous comments above, it is really important that you find your dress first and then think about your hairstyle. The style of your dress will have a major impact on the hair style that will not only suit you but your dress and overall 'look' it is also worth considering if you're having a theme whether your hair will need to be styled in a particular way; if you're having a more vintage feeling wedding then a more vintage hairstyle would be the best option for you and therefore you need to ensure you find the right hairstylist who can produce a more vintage look. One of my top tips is to do plenty of research on hair stylists or hair and make up artists, really look through their portfolios either on Instagram or via their website, to make sure that their style suits you. A trial is a must for your hair, not only to choose the style and to see how the updo works on you, but it is really important that you feel comfortable with the hair stylist and confident that you can work with them before and on your wedding day. Someone may be a great stylist, but you may not feel comfortable with them so a trial is important for your to ensure your vibes match.
Here are some pros for choosing an updo for your wedding day:
Keeping your hair out of your face
This may seem an obvious thing to say, but a wedding day is so busy and trying to keep you hair looking perfect throughout the day and in photos can be pretty time consuming. With an updo, you will have to worry less that your hair will go astray during those precious photographic moments! Depending on the style you choose, you can really create beautiful and intricate details that will look amazing in photos but will also help to keep the hair out of your face. This is especially important to consider if you're getting married near the coast, whether here or overseas, as nearer the coast you are likely to have more of a breeze which can catch you unawares with your hair. Also, if you're having a Winter or Autumn wedding, when the weather tends to be colder and windier, an updo can help take away any problems with a wedding in the windier months. For those of you who are considering an Autumn or Winter wedding, as well as wind there is also the possibility of contending with rain. If you do happen to get caught in the rain, an updo is more likely to stay in place, whereas a down hairstyle may begin to go flatter, particularly if you have curls, if they get wet they're likely to start falling out. We all hope we won't get caught in the rain on our wedding day, but in those wintery seasons it can be a job to avoid them!
Hair accessories can be more easily attached
Depending on what accessories you chose for your wedding day, will influence the type of updo that will suit those accessories. It is important to consider the type of accessories you're thinking of using, particularly if you're choosing to have a veil. Most veils and accessories come on combs making it much easier for the stylists to attach it to an updo as there's more hair to attach them to, however this is not a prerequisite. Some accessories are more suited to an updo such as hair vines, crowns, hair bands and decorative hair crowns which can easily be placed in and around your chosen style. There are also some amazing hair pins that can add sparkle, colour or texture to an updo such as a bun so the possibilities are endless! Some hair accessories can be quite heavy, as demonstrated by a recent bride who wore a beautiful beaded headband but it was quite heavy, so we had to ensure that the hairstyle worked in harmony with the headband, its weight and overall style; we opted for a low sleek bun with a couple of curled strands to frame her face, and it worked really well. Both the headband and hairstyle stayed in place throughout the day and lasted well into the day!
An important element of choosing an updo is the type of veil you'll be using, if you're having one at all! For those brides who are choosing to have a long, double veil then your updo will have to sit slightly higher on your head to ensure that the double veil can go over your face during your ceremony, if this is something you're planning on doing. For those of you who are choosing to have a single length veil then you can really go for a multitude of updos as you can choose to wear your veil both high or low on your head, meaning you have plenty of scope for hair inspiration and options. It is important to consider, that you probably won't be wearing your veil when you're on the dancefloor, so your updo needs to also work once you've taken your veil off, so a sleek style or one with texture that will still look fab well into the night, is definitely worth factoring in.
Whether you choose to have an updo or not, it is key to have chosen your wedding dress to ensure everything fits within your overall look. It is also key that you take the time to research the hair stylist who are close to you/your venue to ensure that they fit with the style and look you're aiming for. Lastly, enjoy looking at amazing hair inspiration on Instagram or Pinterest and have fun during your hair trial!
Some of my favourite hair stylists (I don't receive any commission for these links, purely a professional regard!):