Valentine's Day Wedding Invitations
Valentines Day reception ideas
What more romantic a wedding day could you choose than Valentine's Day? It's a day traditionally filled with love and romance. Whether you choose to indulge in a flurry of hearts or keep it elegant and romantic, there is something to everyone.
It can sometimes be hard to find an invitation which feels so perfectly designed for you when picking something off the shelf. Yes, there are loads of beautiful options, but there isn't always the option to change the font or take out that flower which you hate. And who wants to have the same invitations as anyone else anyway?
When you choose to go custom with your wedding invitations, it means you can create something which perfectly encapsulates you as a couple and introduces your guests to your love story. If you want your own personal monogram, we can design one that you can run throughout your stationery suites and on-the-day pieces. And likewise, if you want to incorporate beautiful hand-illustrated elements such as maps or drawings of your gorgeous venue, we can also do that.
Whether you are having a white wedding or something a little different, working with a stationery designer ensures your stationery is bespoke and unique to you. Whether you want modern calligraphy, hand-illustrated details or typographic elegance; classic white envelopes, classy navy or rich berry tones, anything is possible.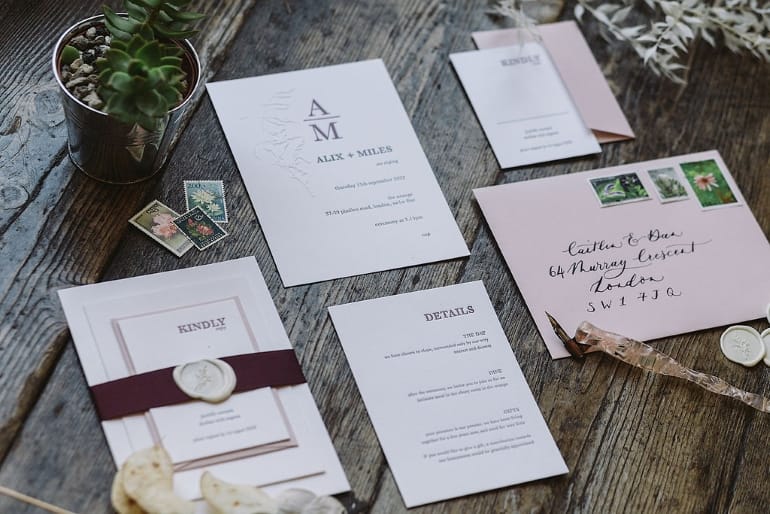 Valentines Day reception ideas
And what better for a custom invitation design than a touch of letterpress? Letterpress printing is the most romantic of print processes – dating back to the 15th century, this beautiful print process is over 550 years old and is as charming as ever: your design is lovingly hand-fed, sheet by sheet into the press and the end result produces the most delightful deboss effect (where the text is sunken into the sheet).
Letterpress is a slow process, so you will need to book in for a custom design 2-3 months ahead of when you would like to send your invitations, but it is worth the wait. When you work with me, I will do all I can to make the process and fun and enjoyable as possible, but apart from creating you beautiful stationery, my job is to take the stress away from you. We work together to create a design which feels perfect for you, your love story and your celebration, and then I set to work making up the plates and pressing your stationery before beautifully packing up and dispatching it to you.
Grania is the founder and designer behind London Letterpress studio, Ink & Paper. She specialises in playful, modern design with more than a touch of romance. Grania is a self-confessed stationery addict and loves nothing more than the smell of fresh paper delivery.
When not designing and printing wedding stationery on her 1930's Vicobold press, she loves nothing more than a wander around the V&A followed by a cocktail or two in Central London.

Top Tips for Planning Your Wedding
Ready to kick start your wedding planning but unsure where to start? Download my top tips on how to begin planning for the wedding of your dreams.