Today's guest post comes courtesy of Jacqui from Jacqui Larsson Fine Jewellery based at the London Diamond Burse Jacqui creates wonderful bespoke jewellery pieces and her guest blog today is here to help you choose that all important engagement and wedding ring.
For most couples, an engagement ring is the most substantial jewellery purchase they will make in their lifetime. The ring will almost certainly become an heirloom- a legacy of their union, and knowing where to start can feel overwhelming.
Here are a few top tips to consider when designing, purchasing or creating your dream ring:
1. Choose durable stones.
As an engagement ring is typically worn at all times, it is subjected to the rigours of everyday wear and tear- which can be considerable. Some gemstones inherently withstand this much better than others as they are harder and have physical properties which withstand daily punishment.
Gemstones have a durability rating, which reflects their ability to resist scratching and damage. The hardest and most durable gemstone is diamond. Consequently, it retains its magnificent lustre and knife sharp facets almost indefinitely. Combined with its distinctive flashes of spectral colours, it is unsurprising that it continues to be the most popular choice for an engagement ring. If you are drawn to coloured stones, good choices include sapphires (all colours), ruby, morganite and aquamarine. Try to avoid brittle stones like emerald and tanzanite.
2. Ideally have a view on your choice of wedding band when you choose the engagement ring!
This may seem counterintuitive, but if you would like the engagement ring and wedding band to sit snugly together without visible gaps, the engagement ring needs to be "wed-fit". It is therefore important to know the style and height of the wedding band to ensure that the setting of the engagement ring is compatible.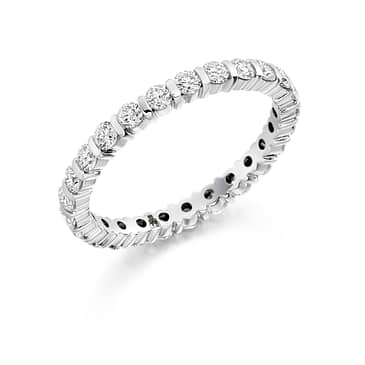 3. If you're on a tight budget, consider a semi-set mount
This is a ring which has been manufactured and pre-set with diamonds on the shoulders or in a halo, ready to accommodate a centre stone which you are at liberty to select separately. This presents a hybrid between bespoke and ready to wear jewellery as there is limited scope for customisation. The mounts are more affordable as they are produced to scale.
4. Explore fancy cut diamonds
If you have your heart set on a diamond engagement ring, be aware that, all other factors being equal, round brilliant cut diamonds command the strongest price per carat (ppc). Fancy cuts, (which include ovals, pear cuts, marquise, hearts, princess cuts, cushion cuts, emerald cuts, radiant cuts etc) typically have a lower ppc for comparable weight round brilliant stones.
5. Prioritise
Decide what is most important to YOU. The size of a stone, saturation and evenness of colour in a coloured gemstone, clarity, colour grade in diamond or perfection of cut. Each one contributes to the cost. By compromising on one or more less valued attributes, you can get more of what really matters to you.
There are ways to save money on purchasing loose and set diamonds- speak to a trusted diamond specialist to discover and explore these opportunities.
6. Laboratory grown diamonds
There has been a lot of disinformation of the merits and ethics of natural and lab grown diamonds. To clarify, a lab grown diamond IS a diamond which is mass produced and man made. It therefore has the same desirable physical and optical properties as diamond, but at a considerably lower cost.
There is little empirical data which confirms that they are "ethical" or kinder to the environment. In order to synthesize a diamond, the extreme conditions in which a diamond naturally grows need to be replicated. This means using extreme pressure and temperatures exceeding 900℃ for a prolonged period of time. Perhaps a debatable use of precious energy resources.
Due to the secrecy surrounding their manufacture, usually in countries including China and Russia which have poor human rights records, it is not clear what the real carbon footprint of synthetic production is. Ownership structure is often opaque. As the diamonds are mass produced, there is no rarity value and they have little or no secondary value. Consideration should be given to the impact on the environment of large scale open pit mining of natural diamonds. However, reputable diamond miners nowadays have obligatory post-mining reinstatement work as part of the project specification. Sorting and grading of natural diamonds is now undertaken at source, which creates employment in local communities, and national governments are usually partners in the joint venture ownership of the mines. Consequently, the proceeds of sales go towards the development of local infrastructure including schools and hospitals.
7. Re-purpose old or inherited jewellery
It is not uncommon to have old or inherited jewellery which is being stored and not worn due to unappealing or outdated designs. However, if the jewellery contains quality gemstones, they can be a fabulous and nostalgic source for an engagement ring. Ensure that a qualified gemmologist checks the stones for authenticity, and then consider how they can be incorporated.
Don't be despondent if old stones show signs of abraded facets and facet edges. They can often be re-polished to return lustrous facets and sharpen facet edges. They can literally look like new again.
8. Check the spot prices of precious metals
If you prefer white precious metals, platinum (the king of metals), is currently (and very unusually) cheaper than white gold… Platinum is hard, naturally white and can be worked to produce fine, delicate settings which reliably secure precious stones.
9. Beware buying jewellery online
It's estimated that at least a third of jewellery purchased online is not hallmarked. Hallmarking is required by law, and is an independent, third party verification of the purity of precious metals. It is your vanguard of consumer protection. Mass produced jewellery purchased online is often set with poorly cut or calibrated stones which inevitably leads to loss. Ensure that any online business has a physical location so you have recourse for after sales service and accountability.
We are specialists in designing and creating engagement rings and all wedding jewellery- for brides and grooms.
Jewellery is all about storytelling. The story of you. Designing something unique which represents you as a couple. Let us support and guide you drafting your first paragraph.
Start your journey today by getting in touch.
Jacqui has written a piece on her own blog with more tips on choosing your engagement ring so head over to her website for more top tips!