Romantic Wedding Ceremony Readings
When it comes to choosing your wedding ceremony readings there are a number of factors that need to be taken into account. Firstly, if you're marrying in Church there is likely to be a stipulation that at least one reading will need to be from the Bible, so it is important to do your research into religious readings as well as non-religious versions.
If you're not marrying in church and opting for a civil ceremony then you may choose to have non-religious readings and you have slightly more freedom here. A celebrant led ceremony can include readings but often the celebrant has written a script for your wedding day meaning that your readings can be incorporated into the overall wedding ceremony script.
Religious Readings
One of the most popular religious readings is from Corinthians and probably one you've heard before but it is a nice reading which includes the lines: 'Love is patient; love is kind; love is not envious or boastful or arrogant or rude. It does not insist on its own way; it is not irritable or resentful and it does not rejoice in wrongdoing but rejoices in the truth. Bears all things, believes all things, hopes all things, endures all things.'
If you are looking for an alternative religious reading then the Song of Solomon Chapter 2 is also a nice one: My beloved speaks and says to me: 'Arise, my love, my fair one, and come away; for now, the winter is past, the rain is over and gone. The flowers appear on the earth; the time of singing has come, and the voice of the turtle-dove is heard in our land. The fig tree puts forth its figs, and the vines are in blossom; they give forth fragrance. Arise, my love, my fair one, and come away.'
For more religious reading options you can find various options here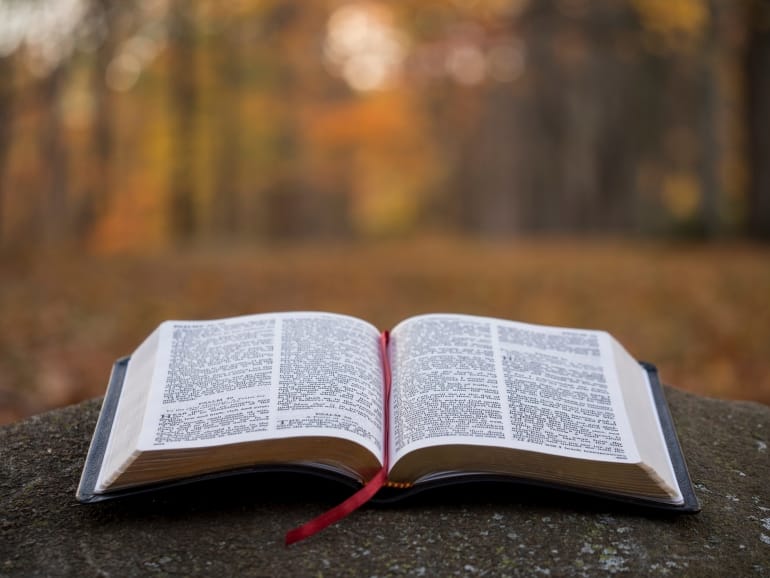 Non- Religious Readings
There is so much scope with non-religious readings from song lyrics, poems, lines from books and quotes from famous people. However you choose to include non-religious readings it is important to make them relevant to you as a couple. When I got married we included a reading from Winnie The Pooh as the Ashdown Forest which inspired the books is a place we have spent a lot of time with family and friends. It is worth spending time thinking about the readings and who is going to read them on the day as you want to make them a nice part of your ceremony rather than just an add on.
One of the most popular and fitting readings is from
Captain Corelli's Mandolin
 by Louis de Bernières
"'Love is a temporary madness, it erupts like volcanoes and then subsides. And when it subsides, you have to make a decision. You have to work out whether your roots have so entwined together that it is inconceivable that you should ever part. Because this is what love is. Love is not breathlessness, it is not excitement, it is not the promulgation of promises of eternal passion, it is not the desire to mate every second minute of the day, it is not lying awake at night imagining that he is kissing every cranny of your body. No, don't blush, I am telling you some truths. That is just being 'in love', which any fool can do. Love itself is what is left over when being in love has burned away, and this is both an art and a fortunate accident."
If you're marrying abroad why not choose a reading that ties in with travelling and adventure such as "Love is an Adventure" by Pierre Tielhart de Chardin
"Love is an adventure and a conquest. It survives and develops like the universe itself only by perpetual discovery. The only right love is that between couples whose passion leads them both, one through the other, to a higher possession of their being. Put your faith in the spirit which dwells between the two of you. You have each offered yourself to the other as a boundless field of understanding, of enrichment, of mutually increased sensibility. You will meet above all by entering into and constantly sharing one another's thoughts, affections, and dreams. There alone, as you know, in spirit, which is arrived through flesh, you will find no disappointments, no limits. There alone the skies are ever open for your love, there alone lies the great road ahead."
For the book worms amongst you the possibilities are endless from Jane Austin to Shakespeare all have written books and poems on the subject of love and marriage, so you may already have a favourite passage or quote but here are a few options to inspire you:
From Jane Eyre:
"I have for the first time found what I can truly love – I have found you. You are my sympathy – my better self – my good angel; I am bound to you with a strong attachment. I think you good, gifted, lovely: a fervent, a solemn passion is conceived in my heart; it leans to you, draws you to my center and spring of life, wraps my existence about you – and, kindling in pure, powerful flame, fuses you and me in one."
Winnie The Pooh:
"If you live to be a hundred, I want to live to be a hundred minus one day so I never have to live without you." Piglet sidled up to Pooh from behind. "Pooh?" he whispered. "Yes, Piglet?" "Nothing," said Piglet, taking Pooh's hand. "I just wanted to be sure of you." "We'll be Friends Forever, won't we, Pooh?" asked Piglet. "Even longer," Pooh answered. "If ever there is tomorrow when we're not together… there is something you must always remember. You are braver than you believe, stronger than you seem, and smarter than you think. But the most important thing is, even if we're apart… I'll always be with you."
Modern couples looking for non-religious readings have some great options to choose from and many opt for song lyrics that mean something to you as a couple. Here are my 3 favourite modern options:
Love – Bob Marley (I also had this reading at my wedding!)
She's not perfect – you aren't either, and the two of you may never be perfect together – but if she can make you laugh, cause you to think twice, and admit to being human and making mistakes, hold on to her and give her the most you can. She may not be thinking about you every second of the day, but she will give you a part of her that she knows you can break – her heart. So don't hurt her, don't change her, don't analyse and don't expect more than she can give. Smile when she makes you happy, let her know when she makes you mad, and miss her when she's not there.
Extract from The Amber Spyglass – Philip Pullman
I will love you forever; whatever happens. Till I die and after I die, and when I find my way out of the land of the dead, I'll drift about forever, all my atoms, till I find you again… I'll be looking for you, every moment, every single moment. And when we do find each other again, we'll cling together so tight that nothing and no one'll ever tear us apart. Every atom of me and every atom of you… we'll live in birds and flowers and dragonflies and pine trees and in clouds and in those little specks of light you see floating in sunbeams… and when they use our atoms to make new lives, they won't just be able to take one, they'll have to take two, one of you and one of me, we'll be joined so tight…
And for the '90s and 00's kids amongst you from 'Sex and the City'
His hello was the end of her endings. Her laugh was their first step down the aisle. His hand would be hers to hold forever. His forever was as simple as her smile. He said she was what was missing. She said instantly she knew. She was a question to be answered. And his answer was "I do."
Whatever reading you choose to think about the setting it will be spoken in; is it religious, destination, barn or stately home and choose the readings accordingly.
It is also important to take into account who will be reading the passages you have chosen, for example, if someone needs to read one that is more complicated like Shakespeare's Sonnet 116 then make sure whoever you choose is happy and confident reading the slightly tricky language. If you are getting married in a church then be sure to run your non-religious readings past your Vicar as some churches are stricter on what they will allow when it comes to the non-religious readings so it's best to behave them agree on it before you go ahead and print any ceremony booklets! Wedding readings are a fun and light-hearted element to your wedding day so enjoy finding the perfect reading that reflects you as a couple and compliments your wedding day.

Top Tips for Planning Your Wedding
Ready to kick start your wedding planning but unsure where to start? Download my top tips on how to begin planning for the wedding of your dreams.