Guest Blog Series: How to bring two families together from different cultures on your wedding day
My guest blog for this month is by Liz Gatherer, Director of Wedition.
If you are planning an intercultural wedding then there is likely to be a few extra layers to your special day that you might like to consider.
When two cultures collide together on one magical day, this usually means twice the tradition as your two families unite! But this might also lead to a few confused family members and guests as they are unsure of what is happening during the ceremony. Wedition is the perfect way to explain your special ceremony to your family and friends, whether it be breaking the glass, jumping the broom or a traditional tea ceremony.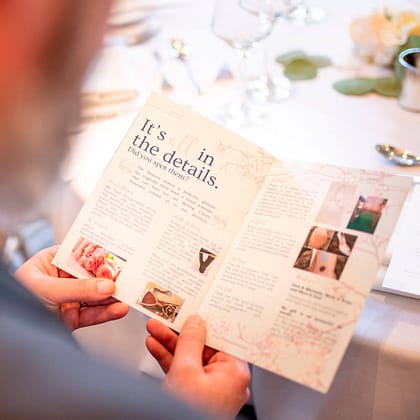 Celebrating your intercultural marriage with your family and friends
Let's take a look at a recent Wedition wedding where Brazilian bride Gilda married British groom Paul. Gil and Paul chose to have a toastmaster on their wedding day, of course the British wedding guests would have been quite familiar with the role of a toastmaster but Gil's family and Brazilian friends perhaps would have been shocked to meet this stranger in a bright red uniform with a loud, deep voice directing the day! Luckily though, to save confusion, Gil and Paul chose to give Wedition to their family and friends. It is perhaps the ultimate souvenir guide to a wedding day and was the perfect way to explain the role and tradition of having a toastmaster.
On the flip side, Gil and Paul choose to serve bem-casado at their wedding, this is a Brazilian sweet with magical powers! It is important that just before you take your first bite, you make a wish for the happy couple, this Brazilian legend was beautifully explained within Gil and Paul's Wedition ensuring Paul's family and all the British guests could enjoy their bem-casado as they made their wish.
Strengthening the meaning behind your intercultural wedding ceremony
Let's take a look at an Indian wedding, there are so many elements to this wonderful celebration that it can often last over three days! It is popular for an Indian/British couple to hold one wedding in the UK and a second wedding in India, this ensures that both cultures and faiths can be fully acknowledged and both sides of the family will be happy.
If your British family are attending the Indian wedding, they may feel unsure about what the event holds and what they should expect. If you choose to have Wedition compliment your IndianBritish wedding then we can include an article for each tradition that takes place, not only does this help your family enjoy the occasion to the full, but it also strengthens the meaning of the tradition for your Indian family and friends and remind them why these special ceremonies take place. For example the agni is a holy fire and acts as a centrepiece during the day, the couple will take seven steps around the fire as they recite the Hindu pledge of marriage. As well as letting your wedding guests know about this holy fire within Wedition, we can also include the words to the marriage pledge, in Hindu and in English.
Wedition – the perfect companion for your intercultural wedding
If you want to share all the intricacies of your intercultural wedding with your family and friends – from meaningful ceremonies, cultural traditions and family history and stories through to introducing your wedding party and sharing the story of how you met, then look no further than Wedition, a fabulous keepsake to give to your family and friends on the day of your wedding, it acts as an ice breaker and beautiful guide to your love story.
Get in touch with Liz to arrange your Discovery Session and share the story of your intercultural wedding with Wedition, the ideal keepsake that your family and friends will cherish forever!
Email: liz@wedition.co.uk
Phone: 01483 677 987
Visit: https://wedition.co.uk/
Instagram: https://www.instagram.com/weditionwedding/
Facebook: https://www.facebook.com/wedition.co.uk/

Top Tips for Planning Your Wedding
Ready to kick start your wedding planning but unsure where to start? Download my top tips on how to begin planning for the wedding of your dreams.