Given the global pandemic of 2020, the buzz word for 2012 and beyond is micro weddings. Although some people don't actively choose to have a micro wedding, there is a growing trend amongst the couple to make their weddings a lot smaller than they were originally planning.
So what is a micro wedding?
A micro wedding is where you have less than 20 guests so it is the bridging point between an elopement and a small traditional wedding. An elopement is usually carried out in secret with only a couple of witnesses and most small traditional weddings are between 20-50 guests but it is totally up to you how many you invite and what you classify your wedding as.
Firstly, what are the benefits of a micro wedding? If you are looking to save money then a micro wedding may be for you. With a reduced guest list, you have more flexibility when it comes to your overall budget. There are more venue options available to you from local restaurants to smaller rooms in larger venues you can choose from a wider variety of venue options. You have the option to hold your wedding during the week, although this option is still available to larger weddings, wedding venues will often have great deals for weekday weddings which can help you save more money.
Let's talk settings and venue. With a micro wedding, there are a few alternative options that you can consider for both your ceremony and reception.
Restaurants
A restaurant setting is a great idea for your wedding reception and wedding breakfast especially if you are looking to hold your micro wedding in a city setting. Many city-based restaurants have private rooms that you can hire which provides you with added privacy and intimacy with your guests. The plus point of a restaurant setting is all your food and drink is in one place but it is worth double-checking with the restaurant what decorations you are allowed to use and whether you can provide your own table decorations. The décor of the restaurant is also important as you need to make sure that it fits with your wedding theme and doesn't crash.
Family home setting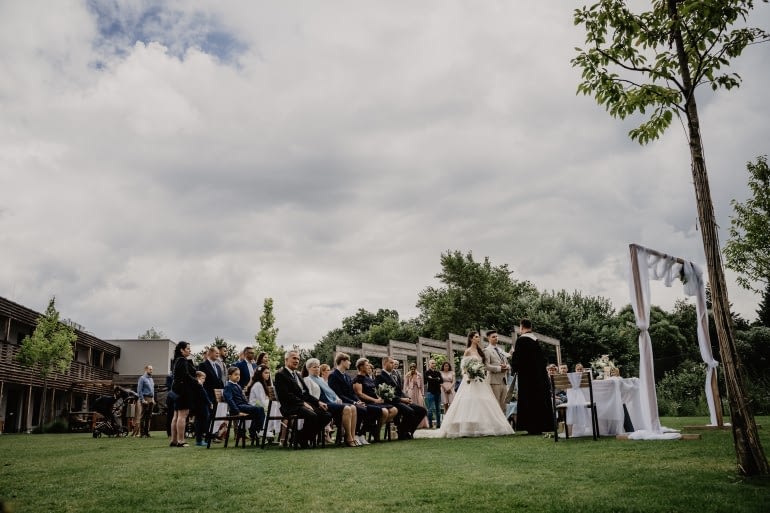 Whether it's your own family home or the home of a family member, a home setting is a lovely option for a micro wedding. Although there are quite a few logistics to consider if you're holding your intimate wedding from your family home, there is a nostalgic attachment to marrying from home. It also allows you to set up some great outdoor set up from games areas, food stations and bell tents to keep you and your guests dry if it rains or provides cover from the sun. Both your ceremony and reception can be held in a family home setting, so it also cuts down on any transport logistics that other options might require.
Guest List
With a micro wedding, the guest list is crucial as you want to ensure you have your family and friend VIPS and the main idea of a micro wedding is to keep the guest list small. Sit down with your partner and really think about who should be on your VIP list; rather than with larger weddings, you don't have to invite every single family member, work colleague or friends who you haven't spoken to in ages.
A micro wedding guest list should be your nearest and dearest and those who mean the most to you, so don't be shy to be ruthless when collating your guest list.
After you have chosen your guest list it is important to think about how you will entertain them and create a fun atmosphere with a limited number of people. One option that has worked well for weddings I've attended is setting up a games area; from traditional games such as skittles and Jenga through to larger games setups, it is a really fun way to get your guests interacting with each other but it also keeps them entertained during your drinks reception. Games work really well if you've opted for an outdoor wedding but if you've chosen an indoor venue there are lots of other games you can play with your guests from table games to quizzes there are some great ideas to keep everyone entertained.
Details
With a reduced guest list, there are more options to up your design and detail game for both your ceremony and reception. Obviously, this will depend on the type of venue you choose but if you're choosing an outdoor setting then why not invest in a beautiful wedding arch decorated with flowers and lights to frame you and your partner during your ceremony. An arch provides a focal point but if you have a stunning backdrop such as a beach or mountain setting, an arch works like a picture frame for your photographer, which makes for some epic photos. Shilpa Reddy Flowers has some fabulous inspiration on her Instagram page for arch ideas or larger installations.
One of my favourite table settings is the long table.
Traditionally used in Italy for weddings and gatherings, a long table decorated with beautiful flowers, candles and personalised favours is always a winner. This works especially well when you don't have many guests as it makes everyone feel included and you won't notice that there are fewer people, whereas if you split everyone across tables it can feel fragmented and separate. A growing trend is for table garlands to not only run down the centre of the table but to flow over the edge and onto the floor and this really helps to finish off the end of your tables rather than necessarily using a tablecloth.
One of the largest trends is for hanging flower installations and chandeliers for long tables.
Whether you're in an indoor or outdoor venue, hanging flowers and chandeliers will always add an additional wow factor to your table setting and as the light begins to fade in the evening the chandeliers provide additional soft glow light creating a beautifully romantic atmosphere for you and your guests. If this is the type of decorations you're looking for I would highly recommend using a wedding planner to help you source and create this set up as it can be a bit of a minefield and planners will have their book of suppliers that they can recommend. It is also important that your florist is able to work with creating hanging flower installations, not all of them offer this or have the necessary skills, so it is important to do plenty of research before engaging with your florist.
With fewer guests, why not add some personalized touches for your guests both during your drinks reception and during dinner. These don't have to be tacky but can be elegant and sophisticated such as personalised biscuits, macaroons, luggage tags for destination weddings or personalised napkins which you can find here. These also act as wedding favours for your guests so you don't have to go too over the top with your wedding favours.
Food
By limiting your guest list, you can afford to spend more of your budget on food and drink. Depending on your personal tastes, with a smaller wedding, you can opt for different wedding breakfast options. One option is to have a multi-course meal with wine pairings so that your guests get plenty of variety, a second option could be to have different food stations, offering your guests varied options for each course or if you're opting for an outdoor relaxed vibe, hiring food trucks or stalls always goes down well with guests, especially if you have a late-night food option such as pizza or burgers. As with your florist, it is important that if you are choosing to have a more formal meal such as the one with one pairing, that your preferred caterer can provide good options for each course and can help you with a company to provide the wine pairings.
As well as your main wedding breakfast, you can also downsize on your wedding cake.
This does not mean that you need to compromise on style, design or flavour but there just simply isn't the need for a large cake with fewer guests, so why not choose a cake that really reflects you as a couple. Whether that's in flavour or looks, there are many amazing cake makers out there that bring incredible style and design into even their smallest cakes. A few of my favourites are: Dainty Bakes, Sugar Plumb Bakes and Emma Stewart
There are so many great wedding ideas you can utilise when planning a micro wedding and it doesn't have to be stressful, especially when you engage a wedding planner. If you're looking to have a micro wedding day then get in touch for a one-hour free consultation to discuss your ideas with me!

Top Tips for Planning Your Wedding
Ready to kick start your wedding planning but unsure where to start? Download my top tips on how to begin planning for the wedding of your dreams.