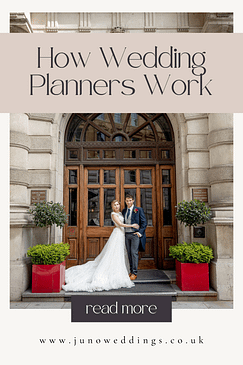 How do you work is definitely a question I frequently get asked. For quite a lot of people, a wedding planner is seen as a luxury item but it doesn't have to be. As a planner my priority is to ensure planning your wedding is stress-free and to work in collaboration with you to bring your wedding vision to life. It is important to me as a planner that we can build mutual trust so that we can work together to make your ideas a reality, utilising my supplier network, which has been built up over a number of years. My suppliers are dedicated craftspeople who I know and trust and they cover many styles to accommodate different tastes. Ultimately a wedding planner is there from the beginning of your wedding planning journey through to your amazing wedding day, recommending venues, suppliers and coordinating suppliers and guests is just a little taste of how wedding planners work.
To find out more about whether a wedding planner is worth it and to help you make a more informed vision on choosing a wedding planner or not, carry on reading below to where I've answered some of the frequent questions I get asked:
Why choose a wedding planner?
If you're time poor and worried about fitting in wedding planning around your work and personal life, then choosing a wedding planner is definitely the option for you. I know how busy life can be juggling multiple things from your work and personal life, so knowing that there is your chosen planner working hard on your behalf, helps to provide a little peace of mind and will help to ease any worries or stress.
Some people simply don't like planning and find wedding planning overwhelming and that's ok, not everyone is a keen organiser! If this sounds like you and the thought of spending hours researching venues and suppliers, plus keeping all your friends and family happy is just too daunting then choose a wedding planner. As a wedding planner, I'm not only here to help you source every element for your wedding day, but I can also be a source of comfort on how to deal with any tricky situations that might occur with friends and family as sometimes it's just nice to talk to someone who isn't as connected as you.
What can a wedding planner do for you?
First and foremost is advice. Advice around what you can achieve within your budget, source suppliers, venues and other elements that you want for your wedding day. Be a source of support throughout the wedding planning process and work in collaboration with you as a trusted partner.
Other than the practicalities of sourcing all the individual wedding elements, a planner will also be with you on your wedding day to ensure everything runs smoothly and to coordinate with all your chosen suppliers. This is particularly important on your wedding day when you really don't want the stress of having to ensure and check that all suppliers are on site setting everything up; this is the time for you to enjoy all the preparations with your loved ones before the day begins.
A wedding planner will also review supplier contracts for you and highlight any areas that you need to be aware of such as deposit payments, cancellation clauses and in these current times, if there are any COVID related policies. Following this, a wedding planner will keep track of all the required supplier payments and inform you when the deadlines are approaching. This is just one less admin task that you don't need to worry about!
Where to find a wedding planner and when to hire a wedding planner?
There are so many places available now where you can find a wedding planner and I've listed some below:
Google
Wedding blogs and their supplier directory
Wedding magazines. This is a great way of finding inspiration either from styled shoots or real weddings where the wedding planner will be listed and you can then search for them directly
Personal recommendation: either from a friend who has used the planners services or from a supplier you have chosen who has a recommendation based on working with that planner
Pinterest: there is a whole world of wedding inspiration on Pinterest and if there's something you like, any pin should take you through to a planner's website.
When to hire a wedding planner will depend on the service you require from that planner. Most wedding planners offer the following services: Full Wedding Planning, Partial Wedding Planning and On The Day Coordination and all will have different timings for when those services need to be booked and each planner will have their own timings for this.
For a Full Wedding Planning service my recommendation would be to book a planner as soon as possible after your engagement. This full wedding planning service will normally include all elements of your wedding planning journey, including sourcing venues for you, which at the current rate are booked up years in advance, so it is really important to engage the planners service as soon as possible.
Partial Wedding Planning is often used when a couple have already sourced some of the main suppliers such as venue, photographer and florist for example but are looking for someone to help source the last few suppliers and to be there on the day. These services are normally booked a minimum of 6 months prior to the wedding date, to ensure there is plenty of time to source the remaining suppliers.
On The Day Management is for those couples who still wish to plan their wedding but don't want to coordinate the wedding day themselves, or if you don't have someone at your chosen venue that could do this for you. Although on the day management can be booked more last minute, you will be relying on the planner's availability which may be limited, especially during the UK summer months. For me On The Day Management required a minimum of 8-12 weeks before your wedding day to ensure I have time to speak to all your chosen suppliers and coordinate them accordingly.
Can I afford a wedding planner? Can a wedding planner save you money?
To answer the first question, only you know! The best way to make this decision is to look at a few factors: budget, time and level of planner expertise.
Within your budget if you have capacity for between 5-10% of your budget to go towards a wedding planner then you can realistically afford a planner. Most planners charge between these percentages for this planning, depending on the level of service required, so it is important for you to really break down your wedding budget and include/exclude planning fees to see if it works for you.
Ultimately, what are your time commitments? The average hours to plan a modern wedding is 500+ so you have to be willing to commit to those hours and invest your time and energy. If you're a busy couple with multiple time commitments then hiring a planner is a must for you. It will save you a huge amount of time, plus take away the pressure and stress from you both.
There are planners for every budget whether it's big or small but it's best to do your research on planners before proceeding, especially if they're very cheap. If they're very cheap you need to ensure that they have the experience to work with you to bring you wedding vision to life. Not all planners who are cheap, have limited ability, some are starting out in the business and want to work but it's always best to set up a call with the planner so that you can ask questions are understand their experience level.
Can a wedding planner save you money; this is a question that is frequently asked! The answer is possibly but this depends on a lot of factors. During you initial meetings with a wedding planner, you will discuss your budget and then it is the job of your planner to source suppliers who are within your budget. Therefore if you have been clear on your budget then in some cases you may come in under budget or within your original budget. There is no guarantee that a planner will save you money, but as a planner I can advise you on ways to keep within your budget, which in the long run does have the potential to save you money, but there's no assurance.
What to ask a wedding planner
Here are a few questions to get you started when talking to a wedding planner:
How long have you been in business?
How many weddings have you organised?
Can you show me your portfolio of work?
How do you source your suppliers?
How does the planning process work? Will I speak directly to the suppliers or will this go through you?
How often will I be updated on the planning progress?
When do I need to book you for 'X' service
Is travel and accommodation included in your prices or is it an additional cost?
What is your availability?
How many supplier options do I receive? What happens if I don't feel they are suitable?
Wedding Planner vs. Coordinator
What is the difference between a wedding planner and a coordinator? Fundamentally a wedding planner is there to help you make decisions and work with you and your chosen suppliers to make sure you have the wedding day of your dreams.
A coordinator is purely there on your wedding day to make sure everything runs smoothly. Often they won't have any involvement in helping you source suppliers, they may have a list of recommended suppliers for their venue, but the sourcing, booking and coordination of suppliers will be down to you.
Whether you're looking for a wedding planner for the day, a wedding planner to find a venue for you or you're looking for the full planning service a wedding planner is an important part of your wedding planning journey, your wedding experience and your wedding day.
As a wedding planner in London, I am perfectly placed to organise weddings both in the UK and overseas so if you are considering a wedding planner for your wedding day then head on over to my calendar to book in your free consultation!