How to plan a Christmas wedding
How to plan a Christmas wedding
Winter and Christmas go hand in hand so if you're looking for some inspiration on how to plan your Christmas wedding then check out some Christmas wedding ideas! Choosing Christmas as your wedding theme opens up so many possibilities for a real festive winter wedding.
Start by choosing a magical winter wedding venue.
There are some venues that just lend themselves to a Christmas wedding especially those with open fires and a cosy atmosphere such as beautiful stately homes or a rustic countryside barn. Once you've chosen your venue you can start to choose your wedding decorations. The possibilities are endless when it comes to creating your Christmas wedding day but candles are an absolute must for a winter wedding to create a soft and romantic vibe. Whether you're getting married in Church or having a civil ceremony, you can line your aisle with winter foliage and huge winter candles in lanterns or hurricane vases. If your venue doesn't allow candles you can use fairy lights intertwined with the foliage or why not fill the lanterns or vases with fairy lights to create a magical winter wonderland feeling.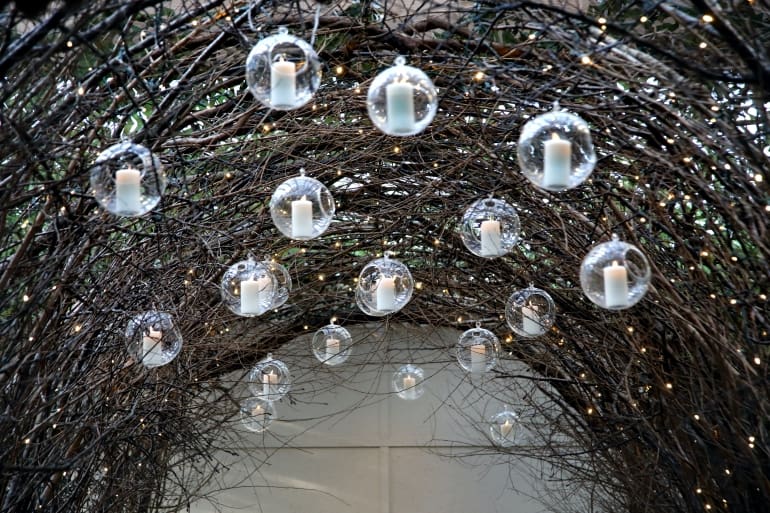 Christmas decorations can extend to your table décor especially wedding favours.
Candy canes tied with a ribbon using your colour scheme make a simple and effective favour and one that guests will certainly enjoy, or using Christmas baubles decorated with your guest's names is also a great keepsake from a wedding and will remind your guests of your wedding each year. Crackers are one of the main elements of a Christmas table and there are some really beautiful personalised ones that can serve not only as an ice breaker for your guests as they pull the crackers but also can be used a place card.
Food glorious food! What is more important than food at Christmas, well not much else except maybe some lovely wine and cheese?!
Everyone loves a Christmas dinner with all the trimmings, so this makes it quite easy as a wedding breakfast meal choice and alongside your Christmas décor it will make it feel like you're having one large Christmas day meal. Why not have a Christmas wedding cake decorated with lovely Christmas items such as holly and seasonal berries to continue with the Christmas theme. However, if Christmas cake isn't your thing, then why not choose a festive cheese wedding cake to make it a little different. Keeping your guests and bridal party warm is an essential part of a winter wedding, so if your venue has roaring log fires available, I would definitely recommend using them!
They also create a cosy and inviting atmosphere for your guests when they arrive for your ceremony and reception.
The fires don't just have to stay inside, later in the evening after the wedding breakfast and during the evening party, if your venue allows, why not set up an outside Christmas market environment with small stalls offering mulled wine, roasted chestnuts and hot chocolate all surrounded by smaller fire pits that your guests can keep warm around. If your venue is more rustic and fires aren't an option, then providing your guests with cosy blankets to snuggle up into later in the evening always goes down a treat and your guests will thank you for it! It is really important that you and your bridesmaids are warm during your wedding day and with a winter wedding, there are plenty of options for your wedding dress.
There are some really beautiful long-sleeved dresses that mean you don't necessarily have to think about an additional coverup allowing you to show off your beautiful dress in full.
Choosing the correct material for your dress is vital as anything too light and you'll really feel the cold so some options are a heavier lace dress with lining, velvet if you're really looking for something sumptuous and silk if you're looking for an elegant and sophisticated finish. Now for the bridesmaids, if Christmas is your theme then there are a couple of options that I would recommend depending on your style and theme.
Jewel-like colours such as navy and gold or emerald green and rich ruby reds work really well for a Christmas wedding as they add richness and tonal elements to your bridal party.
If sparkle is more your style then there are some lovely sequined or sparkly dresses suitable for your bridesmaids and as the season comes into full swing you can often find gorgeous dresses that aren't your typical bridesmaids' dress; giving you plenty of options!
Your wedding stationery is the biggest reflection of your theme, so go with the Christmas theme for your stationery from saving the dates, main invitations through to your table names a good stationer will be able to incorporate the Christmas theme without making it too cheesy; think snowflakes, stars, glitter, Christmas trees and forest scenes.
The décor of your stationery can be bought through to gifts for your bridal party such as bridesmaids as you can give personalised stockings as gifts filled with all sorts of gifts not only for the wedding day but beyond.
When getting married in the winter months it is important to discuss your wedding photos with your chosen photographer.
Winter poses certain issues for photographers from dull days to heavy rain, there are plenty of obstacles so it is important to choose a photographer who is comfortable working in the unpredictable weather conditions. This doesn't mean that you can't get some incredible wintery photos in the rain or when the evening draws in surrounded by candlelight. For a Christmas wedding, you can supply your guests with sparklers to light your exit when leaving your evening party; it makes for magical light and photos!
Planning a Christmas wedding doesn't have to be tacky and cheesy, it can be glamours and elegant too but my over riding tip to you is to start planning early as the lead up to Christmas is really busy for the majority of people so you want to ensure all your guests get plenty of warning about your big day!

Top Tips for Planning Your Wedding
Ready to kick start your wedding planning but unsure where to start? Download my top tips on how to begin planning for the wedding of your dreams.