For a lot of modern couples, you've lived together before getting married so you have a lot of the 'normal' home items already, which traditionally would have been wedding gifts to help the couple set up their home (cue 3 toasters!)
When you're thinking about what you should include in your wedding registry there are a few ways of looking at; do you want to upgrade some items in your home, do you need to set up home, are you looking for money/vouchers to put towards larger items or are you looking for contributions to your honeymoon in the form of experiences or money?
Even if you do have your home already set up, why not add some slightly more unusual or upgraded items that you already have and see them as a more long term investment. When I got married we already had a lot of items for our house so we added some nicer items such as a bread maker (which has been super useful!), a set of lovely place mats and coaster set and upgraded glassware with a nice set of red, white and champagne wine glasses.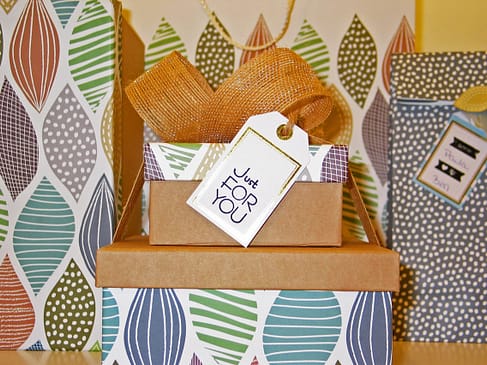 So how does an online wedding gift registry work and what are the different types?
If you're looking for home items then you can choose from lots of different registry options, depending on much you think your guests would be willing to spend. You can set up a gift registry with some high street shops or there are some other gift registries which pull in different items from multiple shops. Here are a few gift registries to check out:
Prezola covers all bases from home electricals through to honeymoon funds, this platform is a one stop shop for those of you who are looking for a gift list that just doesn't take you down just one path.
Similar to other gift lists Prezola works by you starting by creating your list by adding items to it, then you can share the gift list link with your guests, post wedding you close your list and your gifts then get sent to you!
Similar to Prezola, The Wedding Shop is also another registry where you can combine everything into one platform. They work with over 450 brands so there is lots of choice but you can also add honeymoon funds and charity funds.
One of the great features is that you can do group gifting which means that guests can contribute towards part of a gift which is a nice idea if there are a few larger or more expensive items that you want, you're not making just one guest pay for it in its entirety.
Based in London, The Wedding Present Company allows you to create your gift list but with the help of a Wedding List Advisor. Sip champagne in their showroom and work with your advisor to build your perfect wedding gift list.
You can add custom presents, for items you can't find from their selection, add antiques with the aid of their antique supplier or set up a fund to go towards a charity, honeymoon or furniture. This gift list is definitely for those couples looking for the finer things in life!
High street options
Lots of the high street shops offer wedding gift registries but both John Lewis and Amazon (although I know not technically high street!) are some great options.
Well Amazon has over 250 million products to choose from so you should be able to find everything you need! You can shop from gifts from around the world so there is a lovely opportunity to add something a bit different and unique to your wedding gift list.
John Lewis runs a wish list option which means you can add items to your wish list, share the link with your guests and on the plus side you can also request vouchers which are really useful to put towards something larger or more expensive.
Honeymoon Registry
There are two types of honeymoon registry. You can ask for money towards your honeymoon, simply called a honeymoon fund or you can specify particular experiences. Here are a few options for you to choose from:
Kuoni. If you've booked your honeymoon through Kuoni you can set up a honeymoon gift list. Your guests can contribute towards your honeymoon. From the flights, through to the hotel and experiences there's lots of choice for your guests.
Buy Our Honeymoon established since 2007, Buy Our Honeymoon offers your guests the opportunity to fund a range of different things for your honeymoon. From miles on your flights, a night in a luxury hotel to experiences there is something for everyone to contribute to.
When should you do your wedding registry?
It always a good idea to have the list and items added to it prior to sending out your main wedding invitations (whether physical or electronic version) as you want to include the link somewhere on your invitations so your guests can start buying!
It's important that your list is already populated before the wedding invitations are printed and sent out.
My top tips for your wedding gift registry
Add a range of gifts to your registry. Some lower priced items are good for guests who might not be able to afford some more expensive items
Think about how all your items on your registry will work together. If you're buying kitchenware ensure that it matches or compliments each other so that you can use them regularly
If you're adding bedding or towels onto your registry, make sure they are of good quality cotton so that they'll last for a long time
For a honeymoon wedding fund or gift list, send a little photo to the person who bought you an experience to say thank you; people will love seeing you enjoy what they bought!
There are so many gift registry options to choose from, so take your time to decide which one is best for you and have fun adding everything to your gift list!