Unspoiled Myanmar for a marvellous holiday experience
Holidays in Myanmar
In this post I'll share where to head on your honeymoon for an authentic taste of Asia.
Having lived in Asia for two-and-a-half years, I had the fantastic opportunity to travel throughout Asia, during which time one of my favourite places was Myanmar.
If you are looking for a real and authentic taste of Asia, Myanmar has to be my number one choice. Having remained in relative isolation for a long period, the country is rather unspoilt and allows you access to little known villages and countryside alongside bustling historic cities.
If you're short on time but you want a highlights trip, these can easily be seen within a 10-12 day period; or if you have more time, there is plenty to keep you occupied. Start your trip in the buzzing city of Yangon with its shining Shwedagon Pagoda, which dominates the city skyline. One tip is women must cover their shoulders and be prepared to leave your shoes at the front door as you are not allowed to enter with shoes on. The city has fantastic colonial architecture and markets to explore so it's a great place to start.
Bagan has more than 2,000 temples and pagodas in all shapes and sizes. I would recommend either hiring an e-scooter (there are no petrol scooters) or a driver to get around as the temples and pagodas are quite spread out. You can catch either sunrise or sunset at one of the bigger temples for a magical experience and very romantic!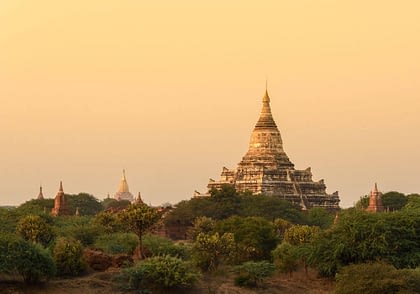 From Bagan you can either head directly overland to Mandalay, known for relics of its regal heritage, or why not take a mini cruise down the Ayeyarwaddy to Mandalay. The cruise is a good way to view different parts of the country from the water and provides you with an opportunity to disembark at local villages. After Mandalay, a nice option is to take the train to Pyin Oo Lwin, which was used by the British as a retreat from the soaring temperatures, so it retains much of its colonial architecture and, as a centre for flower production, there are blooms everywhere!
Inle Lake is one of the most recognised places in Myanmar, with the iconic images of the fisherman standing on one leg. You can explore the lake itself via boat or water taxi allowing you to view the stilt-house villages, take some time to relax in one of the hotels that flank the lake or interact with the locals who live in the surrounding villages.
Contact me to find out how I can help you plan your perfect honeymoon!

Top Tips for Planning Your Wedding
Ready to kick start your wedding planning but unsure where to start? Download my top tips on how to begin planning for the wedding of your dreams.