Planning a hen party whether you're the bride organising or the maid of honour it's always a balancing act; supporting the bride in her ideas, ensuring all the other attendees are happy plus budget management, it's a big task! When COVID hit and we weren't able to meet in person, even for hen parties, many brides to be were looking for hen party ideas at home. Even though the restrictions have disappeared now, a lot of bridal parties are still looking for some great ideas to host a hen party at home. I've rounded up a few of my top ideas for a hen party to ensure you have the perfect hen party.
Dinner Party
A fabulous dinner party, surrounded by your nearest and dearest girl pals is always a great idea and I recently used a website called yhangry who provide private chefs that cater for you in your own home. There are lots of set menus to choose from and you can include any dietary preferences or you can create and build your own menu. What I like about the menu facility is that it shows you the total price plus the cost per person, which is always useful when you're dealing with multiple people with different budgets as you can detail how much it will cost per person plus what's included in that price. My experience was great with yhangry, after booking the Thai set menu, they emailed me with a list of all the equipment the chef would require, what time they would be arriving and when I would receive the groceries. The day before the meal, the groceries were delivered to my house, and then the day of the meal, the chef arrived and began prepping. You can set a time for dinner and the timings are worked backwards for the chef to cook. The food was great plus the chef cleared away afterwards putting everything in the dishwasher, which is an added bonus because let's face it no one likes washing up! This is a lovely idea for a hen party, as it's a reasonable cost, you can relax in a lovely surrounding plus why not get some hen party games and decorations to add to the fun!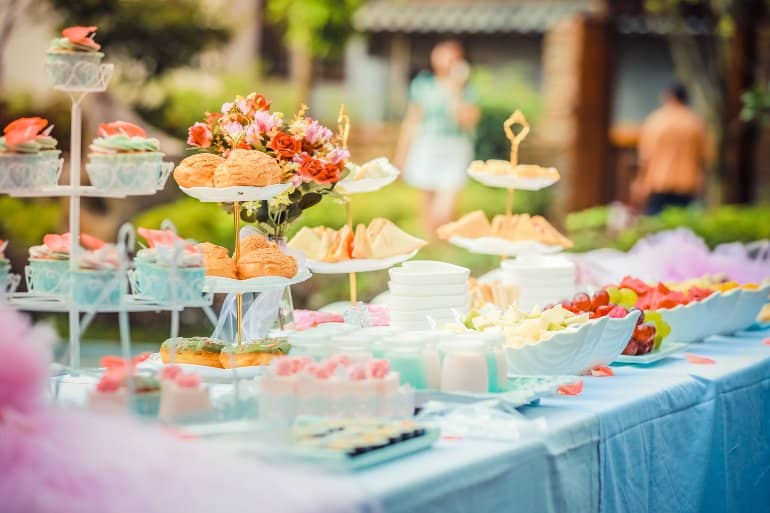 Afternoon Tea
Another foodie related home hen party idea is an afternoon tea. The quintessential British afternoon tea has now taken on so many different forms and there are some lovely options to have your afternoon tea delivered to you at home. I think this idea is really great if your hen party is in the spring or summer, as you can set up a marquee or bell tent in the garden, decorate it with some fabulous decoration and get your afternoon tea delivered direct to your door. I have used Cutter and Squidge for afternoon tea delivery and they're a good portion and super tasty! As well as the afternoon tea, you could set up a drinks bar where your hen party can really get the party started with cocktails, prosecco, champagne or whatever you fancy! To add to your festival vibe hen party, why not hire a beautiful flower wall where you can take all the Instagram worth photos to share of your hen party?! There are so many different options to choose from and you can theme the flowers to be the same as the colour scheme for the hen party; don't just think white, go crazy and add in some vibrant pinks or golds to really bring the hen party to life.
Pamper Packages
Moving away from food, to beauty. If you've got a smaller hen party then why not looking into hen pamper packages where you and your girl pals can relax and get pampered at the same time. There are a couple of options you can look into; the relaxing spa treatment style or the make-up style. If you're more into relaxing and enjoying some quality time with your girls, then I would recommend the spa treatment style where the therapists come to your home and provide different treatments, from massages to manicures and pedicures. Alternatively, if you and your girls are really into your makeup and glam, then a group make up lesson could be right up your street. With the make-up lessons, the make-up artist usually offers step by step make-up tuition where you'll learn tips and techniques to create individual looks and it gives you all the chance to try different looks and colours that you may not have even thought of!
Calling all crafters!
For those of you who are into your crafts then there are a couple of ideas that will get your creative juices flowing! Flower crown making has become a popular hen party activity and I can definitely see why. Using faux flowers, ribbons and wire, you'll learn how to make the crown with an instructor but the design will be totally up to you! With plenty of different flowers in various sizes and colours, you'll have lots of fun creating your own unique creations and at the end of the session you'll get a presentation box to take you crown away with you; a great little reminder of the day!
Another option is perfume making, which is actually an activity that I did on my own hen party. It was really interesting learning how to create an individual perfume and how to layer the scents to create your own unique scent. I actually created a perfume that I wore on my wedding day and make a perfume for my husband which he wore on the day too. It was a lovely gift to give him before the big day but also was a great reminder of a fun day had with my girlfriends. Having something both unique and personal to have on your wedding day was a nice addition, plus for your girlfriends, they can create their own perfumes that they can make use of post hen party, so it's a win win, plus you'll learn something new!
If you are looking for a hen party at home, then I hope these ideas have inspired you just a little to consider something a little closer to home.

Top Tips for Planning Your Wedding
Ready to kick start your wedding planning but unsure where to start? Download my top tips on how to begin planning for the wedding of your dreams.