Best Small Wedding Venues
Best Small Wedding Venues
With small weddings on the rise and expected to continue to grow through 2021 and beyond, I have collated my top 10 small weddings venues in London and Overseas. If you're opting for a small wedding then check out these gorgeous properties where your every need will be taken care of.
Cambridge Cottage Kew Gardens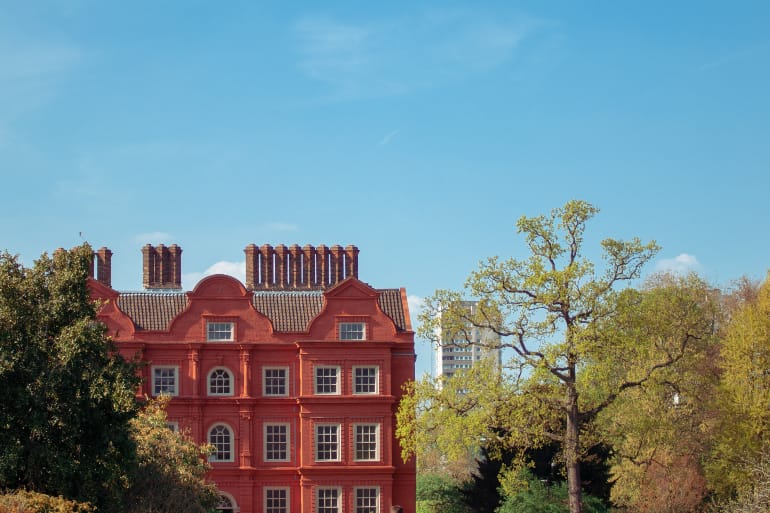 The world-famous Kew Gardens is right on my doorstep and although it is most famous for its beautiful gardens and temperate houses, there are a couple of hidden gems set within its grounds where you can enjoy all the benefits of the gardens in a smaller setting. Cambridge Cottage is a period building which can hold up to 80 people for a civil ceremony, which is perfect for those with smaller numbers. The civil ceremony's take place in the drawing-room before you can opt for your drinks reception in the Duke's Garden followed by your reception in the gallery room surrounded by beautiful botanical artwork. If you're opting for a summer wedding there is the option to marry outside on the beautiful lawns before moving inside for your wedding breakfast. Cambridge Cottage and the surrounding gardens offer the perfect English backdrop to your wedding with great opportunities for photographs in the grounds.
Winchester House, Putney Bridge
Winchester House in West London is a private members club that has a long history dating back to the 17th Century, so if you're looking for a venue with history whilst looking over the Thames, then this venue is for you. The property has numerous rooms available for your civil ceremony so you can choose one based on the size of your party as well as one that suits your overall theme. Following your ceremony, you have access to the stunning outside space including the Thames and the private gardens which makes an ideal backdrop for photos and drinks reception. Winchester house does also offer the capability to have a marquee if you are looking for an outside venue in London. The venue also works with award-winning caterers who will work with you to create a bespoke menu for your big day.
Fulham Palace
Fulham Palace has a long history dating back to the 11th Century with the main buildings being constructed in the 15th Century. There are both indoor function rooms and outside spaces catering to every size of party and themes meaning you can really personalise your experience. Why not hold your wedding breakfast outside in the beautiful grounds or courtyard, if you're brave enough to take on the British weather, but it is a lovely backdrop on a gorgeous sunny English day. Similar to Winchester House, Fulham Palace has its own recommended caterers who can help you create the perfect wedding breakfast.
RSA House
RSA House in Central London is a historic townhouse with a wide range of rooms to accommodate a small wedding ceremony and reception. The most popular rooms are The Great Room which has an impressive domed glass ceiling which floods light into the room illuminating the wall paintings by James Barry. The Benjamin Franklin Room has a large window that runs the length of the room providing natural light and views over The Strand and The Vaults if you're looking for an intimate space for your wedding day, it is something a little different. This is a great option if you're looking for a Central London venue that you can have exclusively for you and your wedding guests for your whole wedding day.
Stationers Hall London
Dotted throughout London you will find a lot of Guildhalls, which are impressive buildings with long histories. If you're looking for a quintessentially English backdrop for your wedding then one of these Halls would be perfect and one of my top recommendations is Stationers Hall. Located in the City of London, your friends and family will be impressed by the Grade I listed building with its Main Hall and private garden which is a rarity in this part of London. You can have a civil ceremony here but if you are looking for a church setting for your ceremony then the Stationer's Company manages St-Martin-within-Ludgate church so you can marry here and then head to the Hall for your reception.
When you are considering an intimate wedding venue abroad, one of the best options is to hire a villa where your friends and family can enjoy privacy and exclusivity. The other option that I would also recommend if you're looking for a beach setting is to look at private islands where you can ensure you and your guests are the only ones.
Manoir de la Foulquetière
Just a hop across the Channel, Manoir de la Foulquetière, is set in the Loire Valley and dates back to the 15th Century. As well as its own on-site medieval chapel to 25 acres of grounds, this wedding venue ticks all the boxes if you love history, beauty and are looking for an all in one venue. There is a reception suite where you can hold your reception which incorporates all the historical aspects of the venue and has a separate kitchen where your preferred caterers can prepare your wedding breakfast. As your guests will be travelling from abroad, it is also good to note that there is both on-site accommodation and other accommodation options nearby meaning your wedding guests have the option to stay close to your venue. There are 9 bedrooms all with ensuite bathrooms that can sleep up to 30 guests and nearby there is 2 gites (7 and 15 people) and 3 six-person chalets.
Borgo San Biagio
Italy is a popular choice for couples and Borgo San Biagio in Umbria is perfect for a more intimate wedding. Set amid hills and near to medieval villages the villa has its own onsite chapel for wedding blessings as well as a terrace for enjoying your wedding breakfast on. There are numerous rooms where your guests can stay so it is a lovely historic venue where you can spend a lovely few days or a week with your friends and family pre and post-wedding.
Villa Cetinale
Set in the heart of Tuscany, this stunning luxury villa is the perfect backdrop for a smaller wedding. Dating back to the 17th Century, the villa has elegant and sophisticated features throughout meaning that your guests will be wowed at every turn. Whether you chose to have your reception inside or outside the settings are really beautiful. You and your guests can also stay here in a variety of rooms and there is a chef service so you can really relax and take advantage of the luxury setting.
Beldi Country Club Marrakech
If you're looking for a different venue that isn't in Europe then look no further than the Beldi Country Club in Marrakech. Morocco always holds a romantic otherworldly quality for me and you can be pretty sure that not many of your friends and family have attended a wedding in Morocco. As well as the onsite hotel and restaurants, the Beldi has a stunning greenhouse where you can hold your wedding breakfast and there are outside options for you to party the night away under the Moroccan sky. If you're looking for colour, tradition, culture and something a little different then the Beldi Country Club is a great option as an intimate wedding venue.
Fregate Island
Sun, sea, sand and turquoise water what more could you ask for on your wedding day. Fregate Island, completely blew me away when I met a representative for the Island at an event in London earlier this year. It is a really stunning setting and ticks all the boxes for a beach wedding setting and there are a variety of location for your wedding ceremony and reception from the Island chapel, your villa, one of the beautiful beaches or on-board a boat. There are villas on the island where you and your friends and family can spend time soaking up the warm Seychelles sun and why not continue here for your honeymoon to really complete the experience?
I hope the list above gives you some ideas of the lovely venues both in London and overseas where you can hold your small wedding but if you're looking for more help then check out my Wedding Venue Search option.

Top Tips for Planning Your Wedding
Ready to kick start your wedding planning but unsure where to start? Download my top tips on how to begin planning for the wedding of your dreams.