Are winter weddings a good idea?
Are winter weddings a good idea?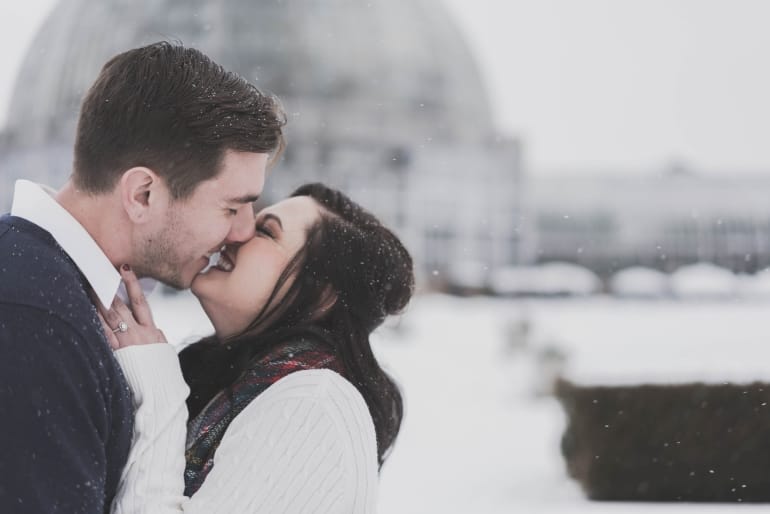 With the winter months typically being the least popular for weddings, but it needn't be. With the current COVID-19 situation meaning couples have had to postpone their nuptials either to a different year or perhaps a different season, winter weddings are on the rise.
There are many reasons why a winter wedding is a good idea for your big day from a beautiful winter wonderland backdrop if you're marrying somewhere snowy to incorporating winter elements such as mulled wine and mince pies there are endless possibilities. Let's explore a few more reasons why a winter wedding is a good idea.
First and foremost, there is likely to be more venues available and with more favourable rates during this time of year.
As it is a less popular time to get married, many venues actively encourage winter weddings with favourable prices so it means that you may be able to get that venue that is out of your budget range in the summer months, in the winter months. There are also many more options available in the winter except for key dates such as New Year's Eve which is becoming a more popular date to get married on. Expect to pay more for this date as the venue has to pay staff extra wages but also they may be taking on your wedding in replacement of a New Year's Eve party.
Coupled with more availability and cheaper prices, this will also have a knock-on effect for your guests as there will be cheaper travel and accommodation prices. If you are having a winter wedding abroad then more people may be able to make it due to the cheaper accommodation prices but also it will be a nice break for them after the bust summer period.
With venues having better rates there is also the opportunity to have bonus decorations meaning you may not have to spend as much on decorating your venue.
During the winter months from Halloween to Christmas, many venues will decorate the main areas such as entranceways and staircases with seasonal decorations so make the most of them! They may not 100% work with your theme but that doesn't matter as they can serve as a lovely and different backdrop for your wedding photos. Taking a couple's photo walking down a beautiful staircase that's decorated with beautiful winter foliage and flowers would make a stunning addition to your wedding photography portfolio. Why not get your guests to take photos (similar to a photo booth) in front of a Christmas tree if there is a lovely decorated one in the entrance to your venue, this makes it something unique and different and means that you don't have to supply the backdrop as it's already there for you!
Your wedding will be a seasonal highlight if you decide to choose to tie the knot in the colder months.
After the busy summer wedding and party season where I have known people to attend many weddings throughout the summer months, it is a welcome addition to the autumn/winter season when there aren't as many weddings and parties taking place. It also gives people an excuse to dress up and enjoy themselves when the weather outside is not so friendly!
If you're looking for a sophisticated and elegant dress code for your ceremony and reception then the black tie is a great choice for a winter wedding and not one that is favoured in the hotter months.
From tuxedos to beautiful sequined gowns there are plenty of options for you and your guests to embrace the winter weather. One of my friends for her winter wedding requested that guests donned their best black-tie outfits for their evening reception and it worked really well with the winter setting and glammed up the evening's photos with some extra sparkle!
Let's talk food.
From comfort food to mugs of steaming hot chocolate, winter brings all sorts of options to the fore when you're planning your wedding breakfast. If you're marrying in the autumn months a pumpkin spiced hot toddy is lovely for your guests to welcome drinks rather than a cold glass of champagne (that can come later!) or why not have some mulled wine ready for your guests on their arrival if your big day is closer to Christmas.
Guests will always appreciate a warm drink upon arrival during a winter wedding as often they have got quite cold getting between the ceremony and reception especially if the ceremony has taken place in church with limited heating!
One wedding I attended had a separate venue for the ceremony and reception and upon arriving at the reception venue, tents with outside heaters had been set up with steaming cups of mulled wine and it was definitely very welcome as it was freezing outside!
Comfort food means different things to different people, but if you're staying in the UK for your wedding, why not include hearty game meat as your main course or even a carving station at each table with delicious seasonal meat and vegetables.
I know this option is usually pretty popular and a great way for guests to interact with each other! Later in the evening, you could serve a hog roast to guests to really keep them going for the evening's party or why not provide some sweet treats such as Smores or a warm chocolate fountain with seasonal fruit.
Just because you're not marrying in the Summer months, doesn't mean that you have to limit yourself on your flower choices. Yes, beautiful pink peonies will not be in season but why not make your wedding stand out more by using in-season winter flowers such as roses, lilies, amaryllis and chrysanthemum. Roses are at their full peak in the winter months so there are great choices and of course, roses are a really popular choice for weddings due to their romantic vibe and varied colour choice. Coupled with flower choices there are also lots of pretty foliage options including berries that can brighten up a darker room. Fragrant pine can add a beautiful smell to a room and is pretty cost-effective when compared to buying scented candles and mixed in with berries it can really add a splash of colour and smell to your reception!
Not 100% wedding related but definitely important; the honeymoon.
Having worked in travel for a long time, the number of couples that would come to me looking to book their honeymoon to the tropics following their summer wedding was quite high. Unfortunately, the Summer months in the northern hemisphere are not a good time to visit the tropics such as the Maldives, whereas if you are having a winter wedding then these are the better times to visit popular honeymoon destinations such as the Maldives, Mauritius and South Africa, meaning that you don't have to wait too long to go on your honeymoon.
When marrying over the summer months you may need to wait a little bit to go on your honeymoon to ensure you get the best weather with the exception of a European based honeymoon where the weather will be nice and hot and sunny!
As we have all been dealing and coping with the ongoing COVID-19 situation, Winter weddings are becoming more popular as people have decided to postpone their original dates and are now marrying in months and seasons that they didn't expect to be. This can have a significant impact on your wedding theme as the brighter colours tend to be used in the summer months but this doesn't mean that you can't bring colour and light to your winter wedding if you've made the decision to change it. Using fairy lights, candles and rich coloured flowers you can create a similar vision with a slight change to your colour scheme.
If you're planning on a winter wedding already or have had to change your date due to the ongoing changes then drop me a line to see how I can help you create the winter wedding day of your dreams!

Top Tips for Planning Your Wedding
Ready to kick start your wedding planning but unsure where to start? Download my top tips on how to begin planning for the wedding of your dreams.